HassleLess Mattress is Here to Help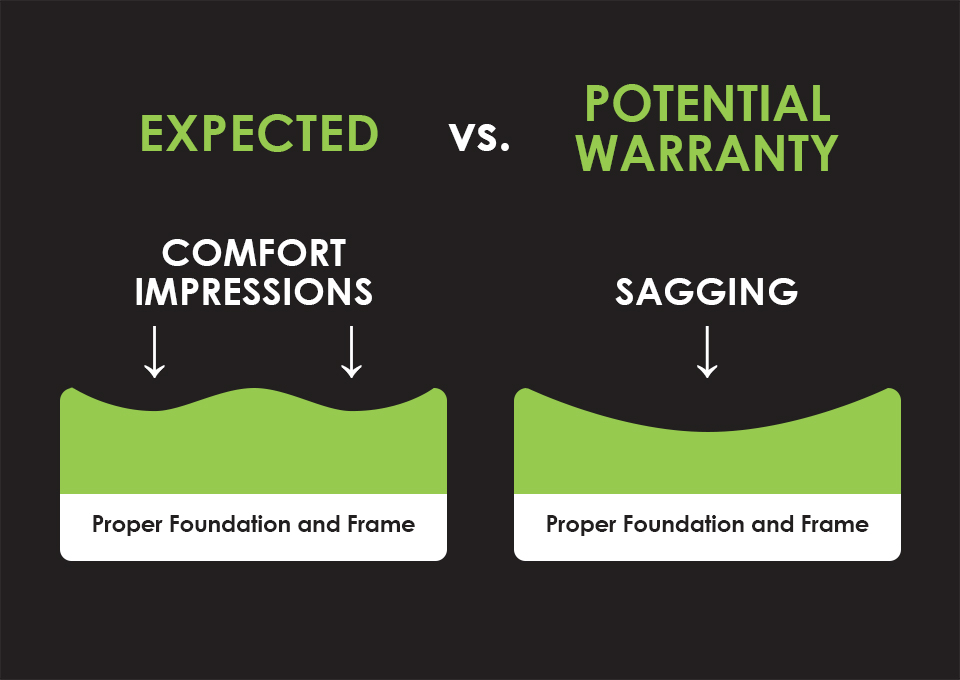 Early signs of wear or slight defects can happen even to the highest quality products. HassleLess Mattress' Warranty Sleep Specialists are here to guide you through the process should this be the case.
Keep in Mind
Your new mattress will likely feel firmer than the mattress you laid on in the showroom. Anticipate 60 – 90 nights for the full break-in period to occur. This is absolutely normal and may be your experience. The showroom mattresses have had the opportunity to settle as a result of clients testing them out on a regular basis, thus, rendering them softer. Additionally, your old mattress was no longer performing in a supportive fashion, so a transitional period is likely to occur between the old and new mattresses.
Comfort impressions are normal with today's more plush mattresses. As the mattress fills into the natural curves of your body, you may notice a slight comfort impression in the surface of the bed. The pressure from your body relaxes the layers of foam, which will cradle you over time, providing optimal comfort, support, and spinal alignment for years to come.
Mattress Brand Warranties Handled by HassleLess Mattress
HassleLess Mattress will repair or replace valid warranty claims at our discretion and on a case by case basis. Should there be an in home inspection, a $78 transportation fee will be assessed.
Adjustable Base Warranties are separately handled by the manufacturer. Please contact the respective company for all related service questions.
General Warranty Exclusions
Mattress damage due to the use of an inappropriate foundation
Damage caused by excessive weight on the mattress
Mattress and/or foundation damage due to abuse or moving
All stains, tears, and/or burns
Stitching and loose threads on fabric cover
Law label, located at the head of the mattress, that has been removed
How Do I Keep My Warranty Valid?
HassleLess Mattress follows the industry with our warranty guidelines. We require you to take a few simple steps of care:
1. Any soiled or stained mattresses will be void of any warranty claims.
2. Utilize an adequate bed frame with proper support from frame to floor. Queen and king size frames must have at least 5 support legs. Split queen and king size box spring/foundations require a frame with a center vertical support bar.
3. A supportive foundation with proper structure is to be used.
4. Rotate your mattress every 3-4 months per industry recommendations to help maintain the integrity of the foam - providing you maximum comfort, support, and longevity.